Iriomote Island Travel Guide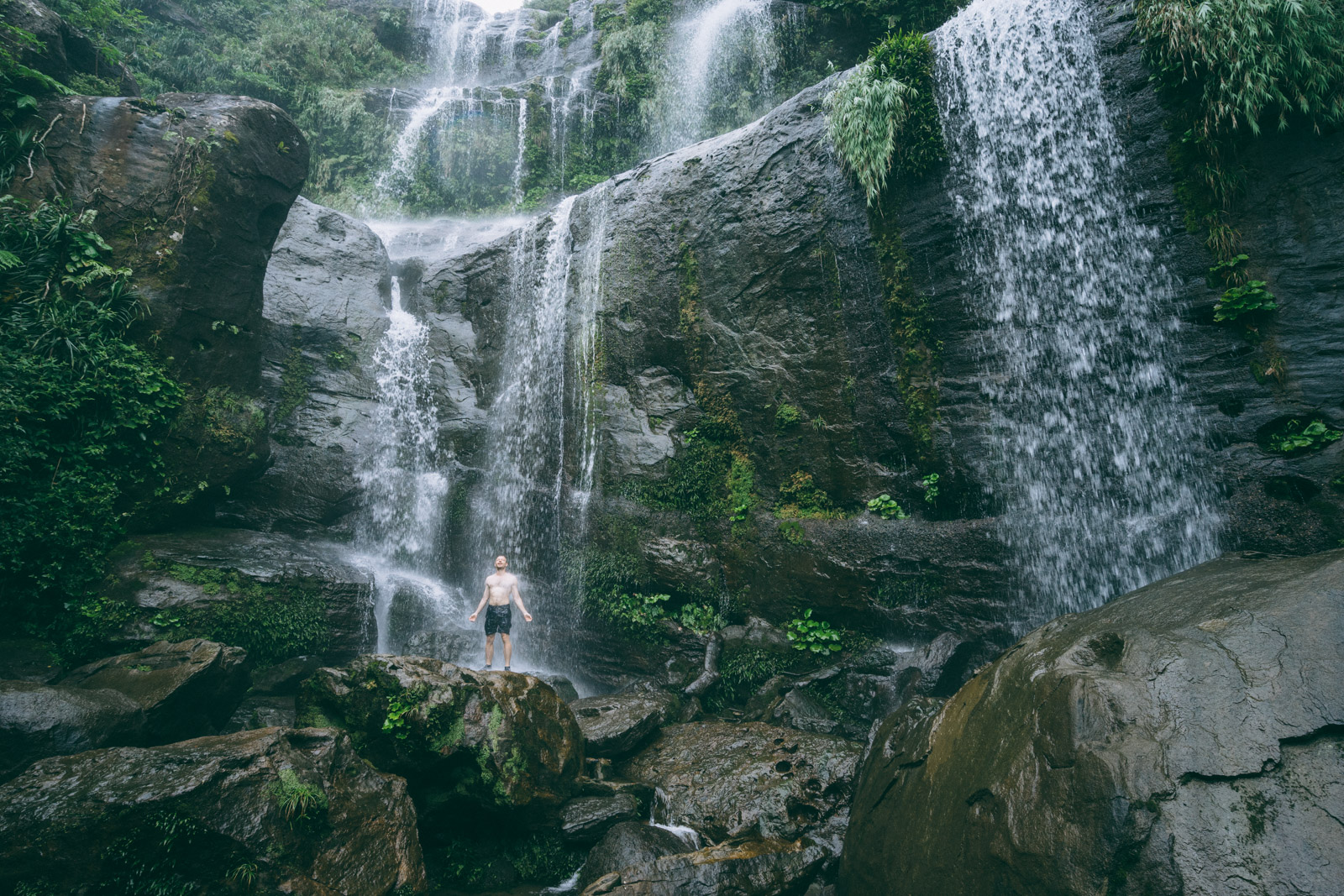 This island is without doubt my favourite destination in Japan. Nowhere else in Japan has given me such a sense of uncharted adventure as Iriomote Island (Iriomote-jima 西表島). As soon as you enter Iriomote's lush green jungle you'll feel like you're exploring new ground for the very first time. The Jungle is alive and wild, with plenty of insects and the infamous 'habu' pit viper snake lurking in there somewhere. There are also small wild cats roaming around the Jungle too! Iriomote offers something that is increasingly rare in these modern times, untouched, wild nature.
Iriomote island has a tropical rainforest climate and 90% of the island is covered in beautiful Jungle and Mangrove forests surrounded by clear blue seas filled with colourful coral reef. The majority of the island is state protected with a portion of the land forming 'Iriomote National Park.' A road runs along the island's coastline before abruptly ending leaving a large part of the island completely unaccessible other than by boat. This really is a destination for those who embody 'the spirit of adventure.'
Getting to Iriomote Island
Iriomote island is actually closer to Taiwan than it is to mainland Japan and is a surprisingly long flight from Tokyo at about 3 hours. You'll need to fly into Ishigaki Island which is the main hub of the Yaeyama Island Group. If you're visiting as a tourist to Japan then you'll be eligible for the special ANA experience Japan Air fare and also the JAL Japan explorer pass which can bring the costs down to a very reasonable price. Failing that, there are now plenty of budget airline options in Japan such as Peach Air, Jetstar and Solaseed Air. There are also flights running from Taipei to Ishigaki if you happen to be coming from that direction or fancy an excursion from Taiwan for a few days!
From Ishigaki, there are several ferry services that will take you to either Uehara or Ohara ports. I always find booking things online a bit challenging in Japan due to the lack of English Language websites so if you're looking to book a ferry in advance, try your best or get in touch with my friends who help foreigners with their travel arrangements in Japan - click here! Once on the island I highly recommend renting a car for the duration of the trip to help you get around and explore the island on your own terms. You can book a car via Rakuten but again, the options are more limited in English and often more expensive. For my last trip to Iriomote, I actually rented a scooter from my guest house which was an absolute joy in the great weather I had. There's no better way to explore somewhere than on two wheels with the wind in my ever thinning hair.
Iriomote Island - Let the Adventure begin!
Twice now I have got off the ferry at Iriomote Island with the overwhelming anticipation of adventure. To me, Iriomote is all about exploring its lush Jungle (I do like Jungle scenery a lot though) and soaking up the wild nature. There are plenty of guides on the island that will help you do some stream trekking to gorgeous waterfalls, kayak through mangroves or take a boat tour to some more remote areas. With that said, one can still explore the island independently of any guide provided you have some basic trekking experience and directional sense.
My personal favourite activity on Iriomote is stream trekking. There are several known trails which have pink ribbons marking the trail all the way up to a waterfall. Despite the trails being marked, you'll still get a sense of adventure like no other. Always allocate more time for photos, water breaks, a wrong turn etc. and make sure to inform someone of where you're going. This is a real Jungle which is fantastic, but also has very real risks for the unexperienced and directionally unaware.
You could also charter a boat for the day to reach some more remote waterfalls or explore the lush coral reefs surrounding the island. I hired a local guide called Takayasu Kobuchi (Kobuchi-san) who has his own boat and a great deal of knowledge about the surrounding area. You can find him on facebook by clicking here. You'll need to speak a bit of Japanese however, or again, go through my friend's booking service. It's a wonderful way to see the island and if there are enough of you, splitting the costs makes it a reasonable day tour.
Here are a few photo hot spots for you to try...
Iriomote Island - Photography Tips
Good weather conditions are pretty crucial to landscape photography which makes short travel trips a bit challenging if we are unlucky with the weather. Fortunately for Iriomote Island, you have two very different types of scenery to suit different weather conditions. If the weather is overcast, cloudy or raining, head to the Jungle. The cloud helps create a nice even light through the Jungle and rain makes everything appear more green. It's very difficult to get appealing photos of the Jungle in bright sunshine due to the harsh light and high contrast scenes. It's a rainforest after all and having some wet weather just adds to the atmosphere!
Here are a few tips for when photographing the Jungle -
Use a tripod, it can get quite dark underneath the Jungle canopy resulting in slow shutter speeds and blurred images handheld
Choose a cloudy or rainy day (bring a rain cover for your camera)
Use a high aperture such as F8-F11 to ensure you have sufficient depth of field to capture a sharp, focused image
Use an ultra wide angle lens to take in the scale of the Jungle scenery (I use a 16-35 lens on a Sony A7ii)
If you don't have a tripod, use a higher ISO to reduce camera shake. Noise is better than a blurred image!
Consider using a polarizing filter to bring out some of the greens and reduce reflections (it's a matter of taste though)
Set a custom White Balance or shoot in RAW so you can change the White Balance in post (my cameras always struggle with Jungle scenes and often give a purple tint to the images)
Focus on the greenery and avoid letting a bright sky into the scene for an easier, more balanced exposure
Take your time searching for a composition. It's often difficult to find a composition in the crowded, wild and unorganised foliage but trust me, you'll find a composition if you take your time
If you're blessed with good weather and perfect clear blue skies then head out to the beaches, drive around the island or hire a boat to explore the beautiful coral reefs. The blue skies will help you create those gorgeous paradise beach shots with ease. Shoot when the sun is at its highest for maximum clarity of those turquoise waters!
How long should I stay on Iriomote Island?
I love the Jungle so I could easily spend a week there exploring different Jungle trails. However, it may not be for everyone and perhaps 2-3 days combined with a few days in Ishigaki would be a good amount of time for the Yaeyama Islands. I think it all depends on how much you like the outdoors and nature. I can spend a whole a day exploring a trail and taking photos as I go along, finishing up with a sunset beer on hoshizuna beach. If you don't like getting muddy, sweaty and wet then you should definitely consider a shorter trip! It is a very quiet island with limited dining and drinking options so again, it may not be for everyone.
An island of adventure
I still remember my first trip to Iriomote-jima back in 2014 and the sense of adventure when taking a drive along the coastal road in search of trail entry points. I'll never forget the feeling of reaching Yutsun Falls in the pouring rain after hiking through the lush green Jungle teeming with insects. It's a landscape photography paradise with so much epic scenery to photograph no matter what the weather. The island may not be for everyone, but for those with a 'spirit of adventure,' there is no better Japanese destination than Iriomote-jima.
Happy travels!
Images shot on Sony A7ii and Sony A7r with the FE16-35 F4 lens.
sam spicer is a travel, landscape and outdoor adventure photographer providing photography services for the tourism industry and much more.
To see more of my travel, landscape and outdoor adventure photography, please visit my dedicated travel website by clicking here.
Many of my images are available for sale via Getty Images so if you're interested in using any of the photos, please check out my Getty Images portfolio by clicking here. If an image isn't available or you have a special request, please get in touch via email on the contact me page.